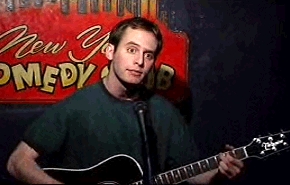 Hometown: Great Neck, NY

Birthday: February 19

Influences: Bon Jovi, Hulk Hogan, Jim Carrey, Tom Green, Stephen Lynch, Melissa Etheridge, Will Ferrell, Dave Attell, and my mom!

Favorite Movies: Ace Ventura, School of Rock, Dumb & Dumber, Old School, Napoleon Dynamite, The Rock, Private Parts, Batman Begins, V for Vendetta, Shooter

Favorite TV Shows: Family Guy, Married... With Children, Quantum Leap, WWE Monday Night Raw, Melrose Place, Beverly Hills 90210

Favorite Books: Dreams Into Action, Quarter-Life Crisis, Live from New York, Comic Insights, Dianetics: The Modern Science of Mental Health

Favorite Music: Bon Jovi, Richie Sambora, Switchfoot, U2, O.A.R., Bruce Springsteen, Train, SR-71, Eve 6, Dave Matthews Band, Melissa Etheridge, Toad the Wet Sprocket, Incubus, Goo Goo Dolls, Dashboard Confessional, Lifehouse, Yellowcard, Blink 182, Guns n Roses, Smashing Pumpkins, Sarah McLachlan
They don't make them like Evan Wecksell anymore.

As one of the funniest and most energetic performers to emerge from New York's comedy clubs and musical venues, Comedian and Singer/Songwriter Evan Wecksell is often compared to comedic superstars Adam Sandler and Stephen Lynch.

Evan's act, a blend of comedy, music and improvisation, celebrates the college experience, endorses internet addiction and makes fun of bad music.

Evan developed his act by studying some of New York City's best known comedians. Soon, Evan was performing alongside some of these very influences including The Tonight Show's Mitch Fatel and Last Comic Standing's Jessica Kirson, to name a few. On his native Long Island, Evan developed a following hosting music nights and playing sets at Governor's Comedy Cabaret, The Downtown and Munchaba Lounge.

After becoming a three-time Long Island Laff-Off Finalist and releasing his live CD, Live at the Bitter End, Evan relocated to Los Angeles in March 2005. The move paid off that fall when he made his national television debut on VH1's "I Love the 80s 3D," andreturned to VH1 the next year by appearing on "I Love the 70s II" and "I Love Toys."

Evan's comedy songs also began receiving consistent airplay on various radio outlets including XM, Sirius and the nationally syndicated Dr. Demento Radio Show. Radio favorites included "Brokeback Mountain," a song that gained popularity leading up to the 2006 Academy Awards, and "Attack of the Cougar," an edgy laugher that coincided with the release of "Sex and the City" in May 2008.

The following summer Evan offered commentary on E! Television's "Forbes Celebrity 100: Who Made Bank" and later reprised his talking head role on "30 Most Outrageous Celebrity Feuds." He followed those appearances by flaunting in knowledge of "Terminator 2" on AMC's "Cinemania."

As Evan's television appearances grew so did his performance schedule, reaching over 100 shows that year alone. In 2009, Campus Activities Magazine deemed Evan one of their "Hot Comedy Acts." Later that year he taped Season 4 of NBC's "America's Got Talent."

That same year, Evan began touring not only as a solo act (and Greek Life speaker), but also as part of College The Musical: A Musical About College, an original musical comedy he produced and starred in with his wife, actress and comedienne Kelly Meyersfield.

In the spring of 2010, Evan released his first full length album through Uproar Entertainment. The album, titled "LOL," is a compilation of studio and live tracks. The album has been played throughout terrestrial and satellite comedy radio stations.

In 2011, Evan began becoming a favorite at corporate shows and conventions as well as another hidden jewel: late-night high school graduation parties. Going on as late (or early) as 4:00 am, Evan's act would cap off a nightlong celebration. The new audiences, in addition to his continuing touring, moved Evan closer in his quest to play all 50 states, which currently stands at 45.
The following year, Evan began making a series of appearances on TBS' Conan. Over four appearances he was part of (and singing voice of) the acclaimed 'Human Centipede Menorah' while also gracing the cover of one of Conan O'Brien's "Coffee Table Books That Didn't Sell Well."

To complement his onscreen TV appearances, Evan has also performed his comedy behind the camera. As an avid audience warm-up, Evan has so far loosened up the crowds for Adam Carolla's "The Car Show" and "Jim Rome on Showtime."

In the summer of 2014, Evan appeared in a commercial for ESPN, but in August he received a huge publicity jolt when a Youtube video featuring him and his son, two-year-old Beckett Sage, went viral. In the video, Beckett named the theme music of twenty World Wrestling Entertainment superstars in two minutes.
Receiving almost 300,000 views in its first week, including endorsements from WWE Chairman Vince McMahon and his daughter Chief Brand Officer Stephanie McMahon, the video garnered articles from such publications as USA Today, The Washington Post, Sports Illustrated and Bleacher Report. WWE was so enamored with the video that the following week Evan and Beckett filmed a second video at WWE Headquarters, which would also go viral.

Evan continues to tour nationally and promote his album. In addition, Evan dedicates a majority of his performances to supporting Greek Life (as an alumnus of Theta Chi Fraternity), Hillels, and a variety of other causes through fundraisers.

For more information on Evan and to purchase his CDs, visit www.EvanWecksell.com.